How to Update Firmware on Carlinkit CPC200 Dongle? 192.168.50.2
How to Choose the Carlinkit Dongle Model? Does my car have Apple CarPlay Wired? What Carlinkit dongle should I get for my car? Difference between Dongle 1.0 and 2.0 (U2W, U2W Plus)? These questions will be answered. This post is for CarPlay fans who need help choosing an adaptor.
The differences between the two Carlinkit dongles (Autokit, U2W Models).

Dongle(Autokit)
Carlinkit dongle (Autokit) is suitable for existing 4.4 or above aftermarket Android systems.
How to confirm whether the vehicle is supported by the Autokit dongle (CCPA) or not?
First of all, you need to check the Android version of your car in the car system to make sure it is above 4.4. Then install the software "Autokit.APK" on your car. If all three options are displayed with "√", your car with an aftermarket Android head unit can work with the dongle.
The function of the dongle(Autokit/ CCPA)
The dongles which work with "Autokit.apk" supports the use of CarPlay supported APPs, Waze, and Maps to navigate, receive messages and calls, and play music while you are on the road, and the Screen Mirror can support syncing your phone screen to the car screen for more fun.
This Carlinkit wireless Carplay dongle supports your Android phone and iPhone, so it also supports wireless Android Auto and wireless Apple CarPlay. It has several variants, a wired connection, and a wireless version.
Shall I choose the wired connection or the wireless connection version? 
"Wired Connection" means you can just connect to your CarPlay via cable regardless of phone. "Wireless Connection" means you can not only connect to your CarPlay via Bluetooth and wifi, but also via cable. So if you use Android phones like Samsung, then you can try a "Wired Connection". Then if you usually use an iPhone, you'd better choose the wireless version. We also have an optional Pro version with a built-in mic for the wired version.
Dongle(U2W, U2W Plus)
The two generations of Carlinkit wireless dongles (U2W, U2W Plus) are available for existing wired CarPlay capable vehicles or certain wired CarPlay capable aftermarket receivers (Alpine, Pioneer, Kenwood).
Their primary function is to convert Apple CarPlay from wired to wireless. If your car does not already have CarPlay capability, this dongle will not work in your car. You must already have Wired Apple CarPlay and a USB port that you previously used with the Apple Lightning cable. The U2W Plus dongle (Carlinkit 2.0) can only for iPhone 9+ and supports Wireless CarPlay. This means that can't use for an Android phone with a U2W Plus dongle (Carlinkit 2.0).
Does your vehicle have Wired Apple CarPlay?
If you have previously used CarPlay via the Apple Lightning cable, then you will not have this question. If you don't have this experience, try connecting with the Apple Lightning cable and see if you get the CarPlay interface (first open CarPlay on your phone) like the following picture. Finally, be confirmed that there is indeed, then you are lucky to have about wireless CarPlay solution.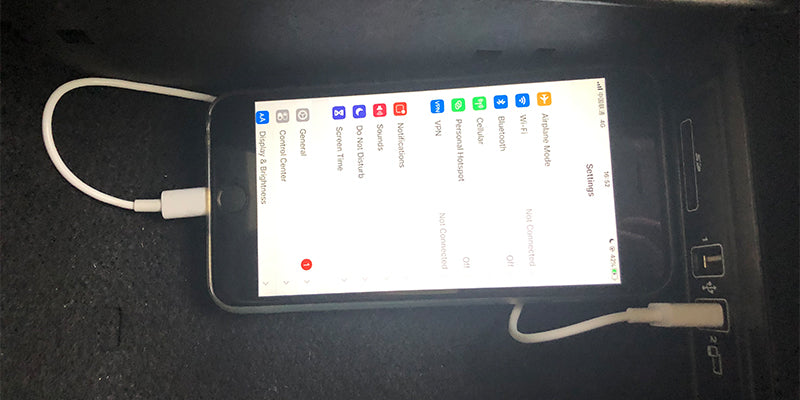 – Differences about dongle(U2W) and dongle(U2W Plus).
Carlinkit 2.0 (U2W Plus) is the upgraded version of Carlinkit 1.0 (U2W). Although the firmware system is the same, there are some improvements in hardware and appearance. 5.8GHZ certification module, automotive standard ATMEL main control chip, 5G WIFI and Bluetooth, etc. on version 2.0 The integration. Therefore, the 2.0 upgrade version has a better experience in connection speed and stability. In the small box comes the Carlinkit 2.0 dongle itself, with its sleek shiny casing and a large LED status bar on the front The LED light can show the status of the connection.
The dongle itself has USB-C and USB-A female ports and the kit has a short USB-C to USB-A cable which it's detachable to come with. The Carlinkit dongle has to attach to this female USB-C port via USB-C on the end of the cable. Then this USB-A on the end of the cable can connect to your vehicle's existing 'Apple CarPlay' USB socket.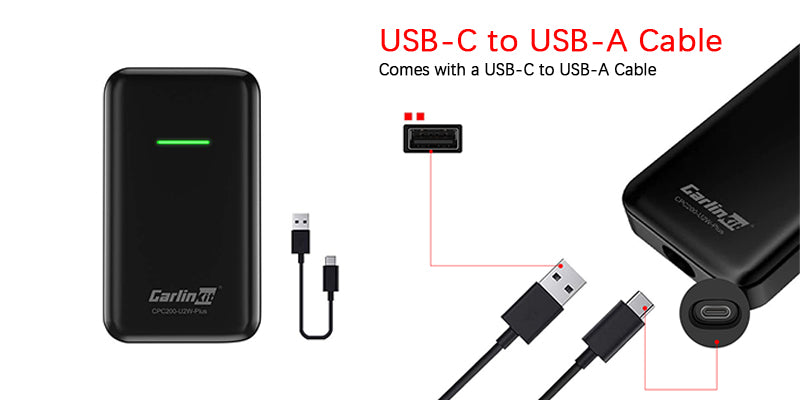 The wireless dongles simply connect to the existing USB port that you use to plug your USB cable into. As soon as the dongle powers up, it tricks the CarPlay system into thinking the iPhone is connected by cable to the vehicle's system/receiver. Meanwhile, your iPhone thinks it's connecting to a wireless CarPlay system (the dongle), so it then transmits CarPlay wirelessly over Bluetooth (for the initial hand-shake) and Wi-Fi to your car system/receiver via the dongle.
Compatibility about dongles.
Our supported list includes some tested vehicle models (for reference only). While we have claimed compatibility, we cannot guarantee 100% fitting for all models due to regional changes in model years and mobile phone connectivity. We need consumer feedback and testing to improve our supported list. Every comment matters.
For Japanese production or Japanese brand models, we have added them to our supported list. But actually, the existing firmware is not yet mature for them, so there will be some cases where they are not able to be stably compatible. We have been aware of such cases from your feedback and have decided to improve the stability in the future firmware for their models. You can wait for future firmware or product updates to improve them.
To report technical issues with your Carlinkit wireless dongle (U2W, U2W Plus), upload the usage log at 190.168.50.2 (the same page as firmware upgrades). Please take a screenshot of the information you entered and email our after-sales team. Please give feedback at the bottom if you cannot upload usage records via 190.168.50.2.
——————————————————————————————————–
Update: We have released Carlinkit 3.0, Carlinkit 4.0, and Carlinkit 5.0 (2air).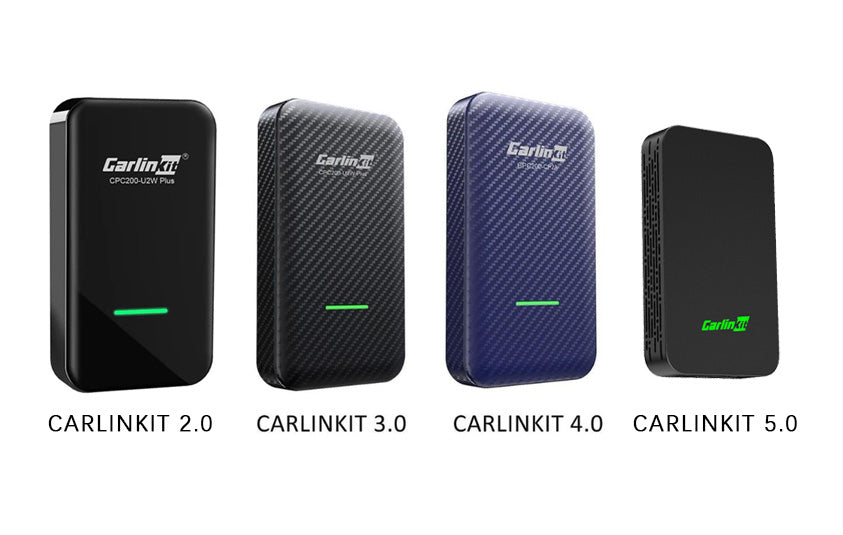 The Carlinkit 3.0 adapter works like 2.0. However, the Carlinkit 3.0 adaptor has a far better industrial design than its predecessor, the Carlinkit 2.0. A major improvement is the absence of the glossy top. Carbon fabric prevents fingerprints from smearing the Carlinkit 3.0 adapter.
With Carlinkit 4.0, the original 3.0 has been enhanced to include a wireless Android auto capability. The Carlinkit 4.0 Wireless Android Auto integration converts Android Auto to Apple CarPlay, so the car doesn't need to support Android Auto to work. You desire Android Auto but your car only has Apple Carplay Carlinkit 4.0 solves it! You may turn your Apple CarPlay into Wireless Apple Carplay or Wireless Android Auto!
Carlinkit 5.0 (2air) supports Wireless Apple CarPlay and Wireless Android Auto. New Carlinkit 5.0 adapter, sometimes called 2air. The Carlinkit 5.0 adaptor supports both Carplay and Android Auto natively, eliminating the need for conversion between protocols.
Are you ready to revolutionize your in-car connectivity? Don't miss out on the chance to experience the incredible features of Carlinkit 3.0, Carlinkit 4.0, and Carlinkit 5.0! Plus, as a special offer for our valued readers, we're excited to offer an exclusive 18% discount code: Carlinkit. Upgrade your driving experience today and save!
Carlinkit 3.0 (U2W Plus)/ Carlinkit 4.0
Carlinkit 5.0 (2air)
You may also like:
If you enjoy watching videos like YouTube, Netflix TikTok, etc. on your car screen, you deserve  Carlinkit TBox Plus. Carlinkit Tbox Plus is a multimedia video box, which has an Android 12.0 system and 8+128G memory. Covering a wider range of functions, compatible with iPhone and Android smartphones.