Carlinkit Tesla Wireless Carplay Adapter for Tesla Y & Tesla 3, Plug&Play, 5G Chip, for iPhone Fastest Speed Wireless Apple Car Play Dongle, Auto-Connect, Online Update, USB/Type C 2Cables
Upgrade Your Tesla to Wireless CarPlay
Elevate your Tesla experience with the latest and most advanced wireless CarPlay adapter designed exclusively for Tesla vehicles. Say goodbye to wires and enjoy seamless music playback, navigation, and Siri interaction. Our adapter supports Voice Control, Siri, Online Music Apps, Phone Calls, Music Apps, Messages, and Real-time GPS Tracking.
Experience the convenience of automatic and wireless CarPlay connectivity without the need for a USB cord. Please note that this product is exclusively for use with Tesla vehicles.
Key Features:
"Tesla's fastest wireless CarPlay dongle," upgraded with a new IC CarPlay Dongle featuring 5.8GHz Wi-Fi support, 5.2 Bluetooth, and a 5G U2 Dual-Core chip for low power consumption and anti-interference.
Utilizes Next-generation & Signal Filter Technology for continuous and reliable connectivity, ensuring stable and smooth streaming.
"Smallest but Strongest" design, lightweight, sleek, ultra-compact, and palm-sized to save space in your Tesla while keeping it tidy.
Comes with two types of data cables (USB Type A to C and Type C to C) to reduce connector wear and tear.
Automatic linking upon entering your car, simplifying your driving experience. No more cords – use Bluetooth and Wi-Fi for new possibilities.
Warranty and Support:
Enjoy a one-year global warranty and free online updates.
We offer a 30-day money-back guarantee, a 12-month replacement guarantee, and lifelong technical support.
Our dedicated customer service and skilled technology team are here to assist you.
Experience the convenience of smart and easy living with Carlinkit products designed to suit your needs.
Please Note: Our products rely on 4G and mobile phone networks to keep your car online and connected. Tesla vehicles depend on the internet for various functionalities. If you choose to bypass Tesla's online recognition and take the car offline, it may impact the safety of your car. Please make an informed decision.
Good news:
Carlinkit T2C

supports both wireless Carplay/Android Auto

 right now! After upgrading your T2C to the newest version then it

supports SIM-card free

!
Tesla wireless Carplay adapter – T2C
The CPC200-T2C is specially designed for Tesla and helps Tesla upgrade with wireless Carplay/Android Auto. All you need to do is insert the SIM card (Please use the SIM card no need to provide the IMEI number) or share the phone's wifi into the T2C, connect your Tesla to the T2C with the USB cable, and then enjoy wireless Carplay. Simple and Money saving!
Suitable for cars and mobile phones:
Applicable model: For Tesla all series models.
If your model year is prior to 2018, the following conditions must be met when using T2C:
Browser support is required.
WiFi support is required (older cars may be unable to search for 5G signals, so you need to switch to 2.4G for the mobile device's connection).
Tesla's browser must be upgraded to Chrome 94 or a newer version.
Support iPhone 6 and newer IOS 10 or above.Support Android phones with Android 11.0+.
Note: Tesla drivers should focus on the road even when the Tesla Autopilot model is on.
Features:
✅

Just Play and Play, bring a more functional and comfortable experience with your Tesla.
With the T2C Tesla dongle, you can upgrade your Tesla with wireless Apple Carplay/Android Auto, which means you can listen to music with your favorite application, make phone calls, summon the Siri assistant by voice, etc. T2C retains Tesla's original car screen operating system and adds an interactive interface adapted to it, allowing you to get started quickly and operate more smoothly.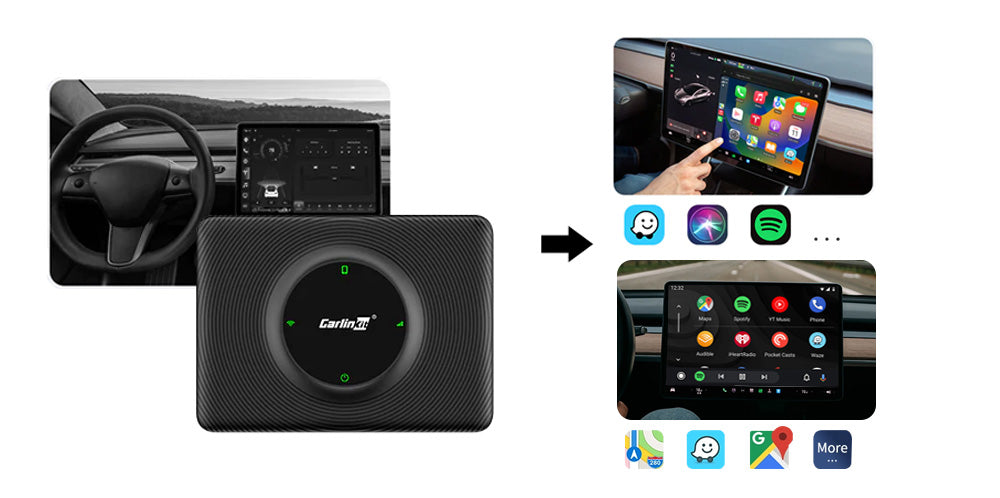 ✅Siri assistant support, make it easier to drive.
If you are driving the car alone and no one else can assist you in operating the screen, T2C could provide you with an aid to manipulate your car. Just arouse Siri as you do on an iPhone, then you can command your Tesla. T2C makes your car trip safer and more convenient.

✅Search for "Carplay" in the search bar to explore more driving pleasure.

✅

More navigation options for your safe driving and precise navigation.
With the T2C Wireless Carplay Adapter, you can have more options in choosing navigation apps, such as Waze, and Google Maps. It supports more map software that can be updated in real-time.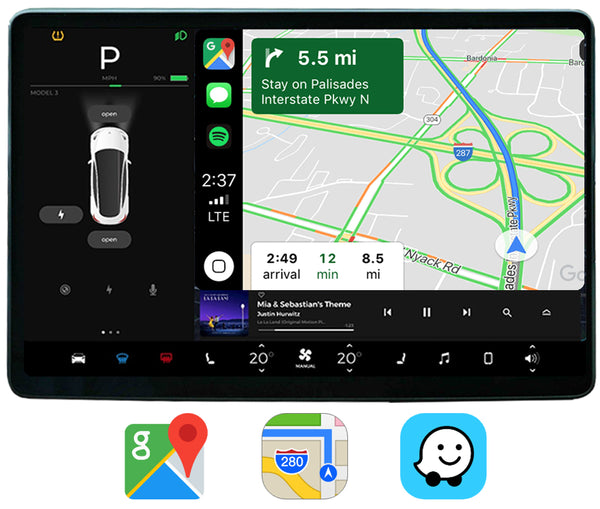 ✅Split-screen function.
✅More stable and smooth operation with 2.4G+5.0G-Wifi.
✅

How to use T2C in your Tesla car?

If you want to add wireless Carplay/Android Auto to your Tesla car, please make sure your phone is iPhone 6/ IOS 10 or above, For Android phones, they must support Android Auto. You can insert the SIM card or share the phone's hotspot for the device to access the internet.Please connect the T2C with your Tesla after the car is in gear. (At that time you can log in to the car screen's browser to enter http://tespuch.com)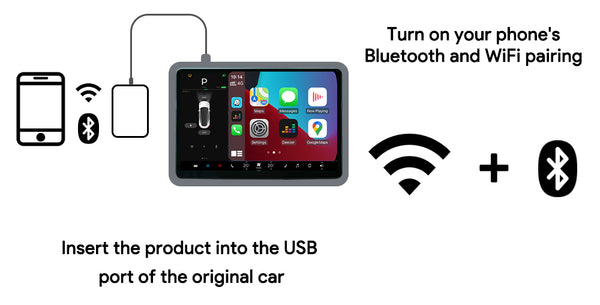 T2C supports language change, version upgrades, etc in the connection interface.
LED Instructions
LED 1: Mobile phone interconnection status. Slow flashing after successful interconnection.
LED 2: WIFI connection status. Green light will keep on after a successful connection.
LED 3: Power status indication. Greenlight will keep on after powering on.
LED 4: 4G status indication. Greenlight will keep on after networking.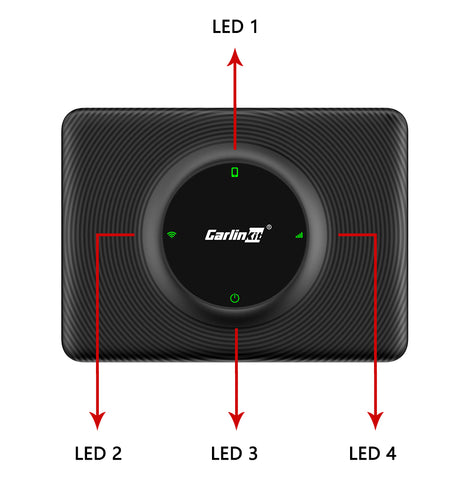 Product Specifications:
Compatible list:
Adapted for Tesla vehicles
Tesla Model Y
Tesla Model S
Tesla Model 3
Tesla Model X
Tips:
T2C is only suitable for Tesla model cars. You can use it with or without a SIM card. If you insert a SIM card (iPhone eSIM card also works), the SIM Card only consumes a small amount of data, navigation, music, and other applications that use the mobile phone's traffic and does not use the T2C'SIM card traffic.

The following countries and regions cannot use our T2C products: Taiwan, Hong Kong, Australia.
When using Carlinkit T2C in Israel, if there is a situation where the box WiFi cannot be found by both the mobile phone and the car (the reason is Israel only supports channels 36-44, and the T2C box defaults to 149).

T2C is compatible with iPhone 6 or IOS 10 and above. As well as Android phones that support Android Auto.

To upgrade the T2C tesla apple Carplay dongle, please refer to THE VIDEO TUTORIAL
For any after-sales service or pre-sale service please be free to ask us by email at

support@carlinkitcarplay.com

.