Which dongle for Carlinkit should I buy?
We have different kinds of Carlinkit dongles to meet your needs. Please take your time to look through our products, compare their features, and choose the Carlinkit dongle that fits your needs the best. Below for your reference.
Product Function Introduction
Carlinkit 3.0 Wireless Carplay Adapter
The vast majority of the time, you don't want to charge your phone. You just want CarPlay and you don't want to take your phone out of your pocket either. Carlinkit 3.0 Wireless CarPlay adapter is a great option for you. It is specifically designed for Apple iPhone users with a connection to get wireless Carplay.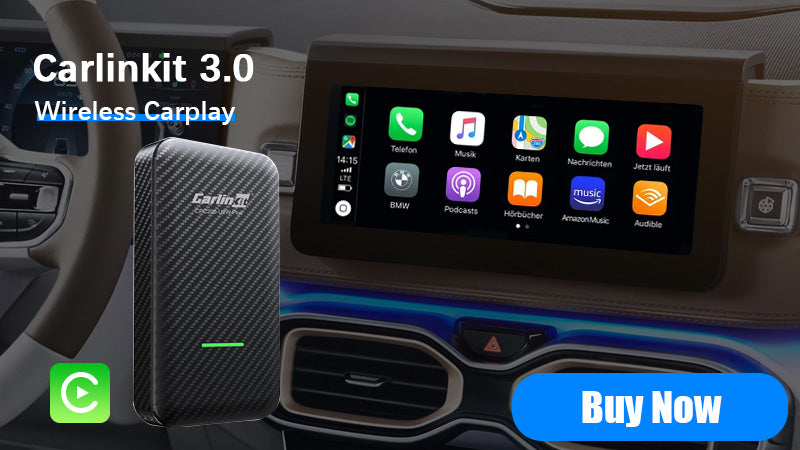 Carlinkit Mini2 is a tiny device that converts your wired CarPlay to wireless CarPlay seamlessly. It's compatible only with iPhone. Your phone would connect to CarPlay automatically with Carlinkit Mini2, so you can free up your hands and say goodbye to wires. So small, yet a real game-changer.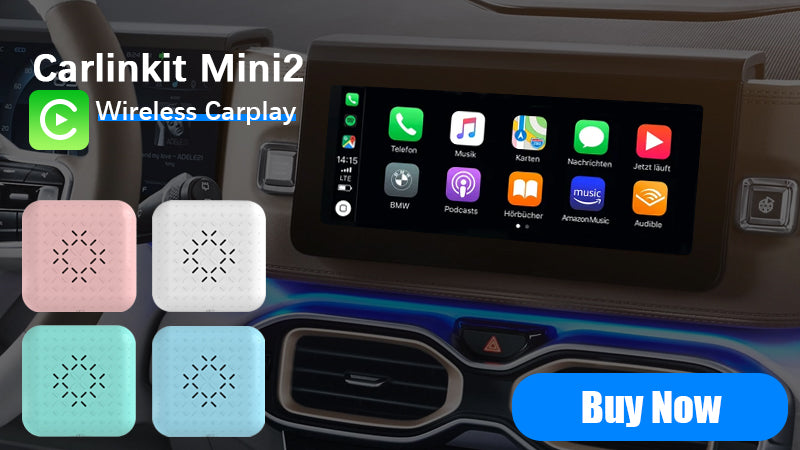 Carlinkit A2A wireless Android Auto Adapter
The Carlinkit A2A is a wireless adapter that has been specifically designed to cater to Android phone users. With the Carlinkit A2A, users can easily connect their Android phone wirelessly and start using Android Auto in a matter of seconds.
Carlinkit 4.0 CarPlay/ Android Auto Wireless 2-in-1
Your car has Apple Carplay only, but you want Android Auto? Carlinkit 4.0 is the answer! Carlinkit 4.0 can convert your wired Carplay to Wireless Carplay or Wireless Android Auto. It is an excellent choice for families or individuals with multiple mobile devices that allows users to switch between CarPlay and Android Auto modes seamlessly.
Carlinkit 5.0 Wireless CarPlay/ Android Auto Adapter
Carlinkit 5.0 is a Wireless Carplay and Wireless Android Auto Adapter in one. Compared to the Carlinkit 4.0, the 5.0 adapter supports Carplay and Android Auto natively, so it does not have to convert between Android Auto and CarPlay protocols.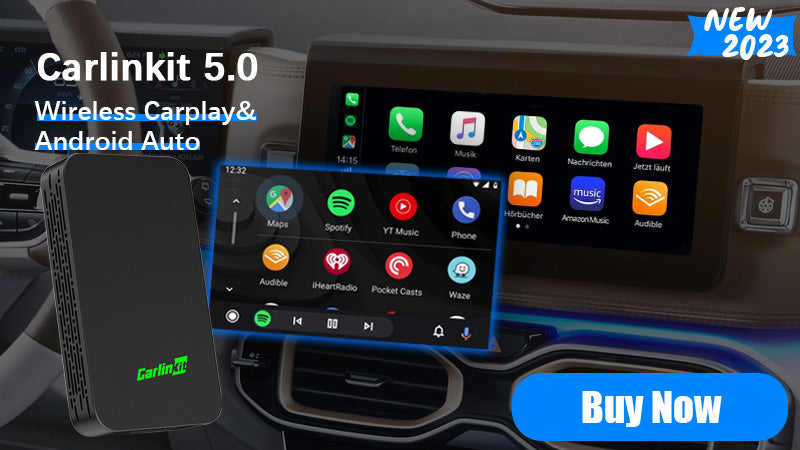 Carlinkit Multimedia Video AI Box
Carlinkit AI Box series is known for its unique feature of having an in-built Android system. It Is not only A Wireless Carplay or Android Auto dongle but allows you to run any Android 9.0 Compatible App from the Google Play Store on your CarPlay Display. If you enjoy watching videos like YouTube or Netflix, etc. on your car screen. You deserve Tbox Plus, which has an Android 13.0 system and 8+128G memory.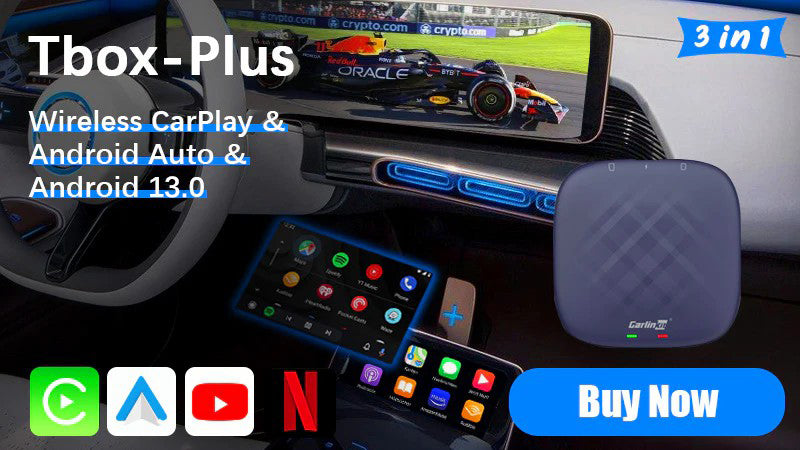 Carlinkit 3-in-1 Tbox Max
If you love listening to music, watching videos, or playing games on your car screen, Carlinkit Tbox Max is your perfect choice. Its built-in Android 13.0 system allows you to download any apps from Google Play Store. What's more, compatible with factory-wired CarPlay, Tbox Max also supports wireless CarPlay and wireless Android Auto.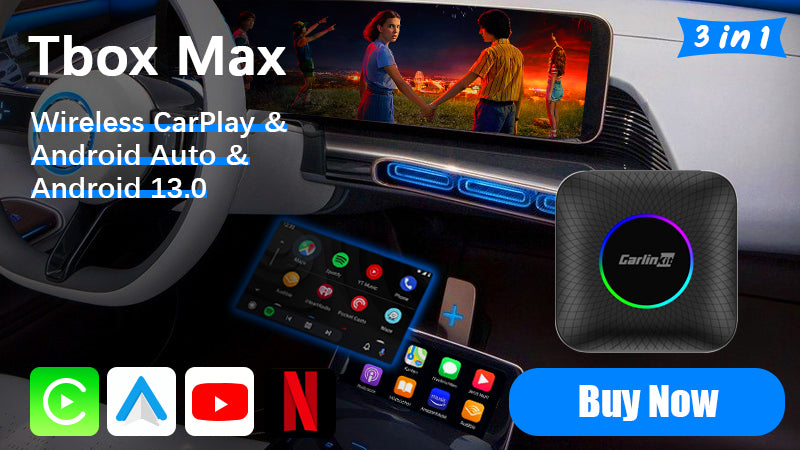 Carlinkit 4-in-1 Dash Cam
Carlinkit TBox AR is a device that combines the functions of Carlinkit AI Box and 1080P HD Dash Cam. It maintains the original AI Box functions. Besides this, it is a good HD dash cam to help you record the beautiful view when you are driving on the road.
Carlinkit T2C Tesla Carplay
Carlinkit T2C is a game-changer in the world of wireless Carplay/ Android Auto adapters. It is specifically designed for Tesla models. It supports both Apple CarPlay for iPhones and Android Auto system for Android mobiles. It is applicable for Tesla all series models.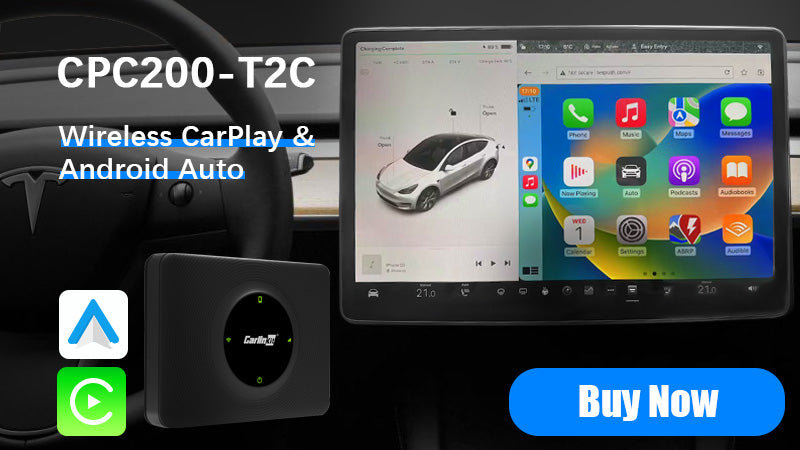 Carlinkit CCPA for Aftermarket Android Head Unit
If you use Carplay and Android Auto in the Aftermarket Android Head Unit. You can choose Carlinkit CCPA. It's specially made for Android head unit, which is suitable for model system versions above Android 4.4+. Besides supporting wireless Carplay and Android Auto, it also supports wired mirror links.
In Conclusion
We hope this blog post will help you choose the right chip for your needs matter which Carlinkit dongle you choose, you can be sure that it was made with good quality and compatibility in mind. We try to make connections as easy as possible so that you can get the most out of the infotainment system in your car.